What to see, what to do ?
There are well marked hiking trails from the Gite. Lovely natural views, flora, fauna and of course the colourful dragonflies. You may also like to try your hand at horse, donkey or mountain-bike trekking.
---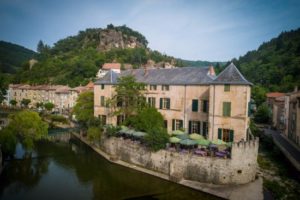 Lunas is a charming, ancient, typical French village. Here you will find bars, restaurants and a convenience store. With nice walks and stunning views there is always something to explore.

---
Gourmet region, l'Ortensia, restaurant gastronomique , le chateau de Lunas , l'auberge gourmande à Lunas.

---
The Benedictine Abbey of Joncels is the oldest monastery in the region (VII century): It once had up to 28 churches under its control.
---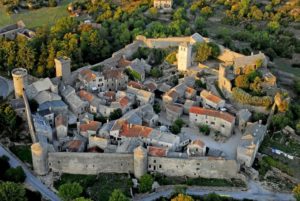 Au milieu du plateau du Larzac, il est un vestige de l'histoire templière et hospitalière : La Couvertoirade, ancienne dépendance de la commanderie de Ste-Eulalie. L'enceinte presque intacte qui la protège fut élevée en 1439 par les chevaliers de St-Jean-de-Jérusalem. Son église du 14e s., elle aussi fortifiée, offre un joli point de vue sur le village. Une flânerie intemporelle dans un minuscule bourg fortifié.
---
An area of outstanding beauty, Lake Salagou has much to offer water enthusiasts from canoeing, sailing , fishing (giant carp and catfish), bird watching, fascinating geology and worth a visit for even just a lazy day by the water .
---
The Fleury museum at the nearby town of Lodeve has a permanent collection that is expanding every year and also plays host to a featured major exhibition: this year : Magritte, Ensor, Aleshinsky, Carté…

---
Adventure course!
---
Au cœur du pays des monts et des sources, la Station thermale d'Avène est un lieu de cure privilégié par la qualité de ses soins . A 30 minutes en voiture (20 km), le gite des libellules offre un hébergement idéal pour les curistes qui cherchent à allier cure et vacances en pleine nature.
---
We can arrange many sports and activities for your stay at Libellules: Sailing, kayaking, mountain biking, golf, climbing, canyoning, tennis, horse riding, etc …
---
For swimmers, you have the choice between the leisure centre at Lunas with slides (for younger children), lake Salagou or one of the many rivers.
---
Lerab ling Buddhist Temple.
---
Mourèze rock formations and the Cirque du bout de monde are spectacular but the Cirque de Navacelles, with its vertical drop of 300m, is the most impressive.